Designed for outdoor use, comfort, and durability; our outdoor foam will be a perfect replacement to fix your old outdoor cushions / patio cushions. eFoamstore will custom tailor your foam to feel soft, medium, or firm as well as to your exact body weight if needed.
| | |
| --- | --- |
| | Is your shape not on this page? We make custom shapes and sizes to fit all your needs. Please contact us. |
Why use outdoor foam?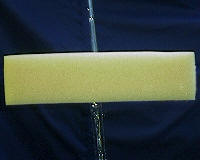 Water running through a piece
of Outdoor Patio Cushion Foam

The foam has an open cell structure that is perfect for areas where your cushions get wet
Outdoor foam dries almost immediately after exposure to: rain, salt spray, melting snow, morning dew, washing, or other types of moisture and humidity
Recommended for outdoor seating applications such as outdoor furniture, patio cushions, golf carts, boats, or wherever cushions are exposed to the elements
Patio Cushions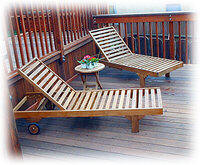 Replace your flat patio furniture cushions with new outdoor foam. eFoamstore uses outdoor foam to make new cushions to your size specifications and we'll help you measure them as well. The open cell structure of outdoor foam allows water to pass through easily. This drainable property is perfect for areas in which cushions may get wet.
Replacing Patio Cushions with Outdoor Foam
When measuring outdoor foam seat cushions to replace the foam there are a few things to taken into consideration:
The new foam interior needs to be slightly bigger than your cushion cover
This allows the foam to be slightly compacted and will help it to fill out the cushion cover properly

If the foam interior is too small then your seat cushion cover will wrinkle when you sit on it

If the new foam fillings are too big you may strain the seams and zip on your cushion cover and your new cushion will not look right
When replacing seat cushion foam, generally, you will need to add 1" to the cushion width, and 1" to the cushion length. You may also want to add 1" to the depth of the cushion as well. This will ensure that your seat cushions have a domed appearance instead of looking too flat.
Best Foam to Use for Seat Cushion Replacement?
Rectangular foam, which can be rounded at the edge, is recommended for most applications. High density outdoor foam is recommended.
| | |
| --- | --- |
| | If you have any questions about selecting the right seat cushion foam or how to measure cushions for replacement please contact us. |
---
Edited by www.eFoamstore.com.