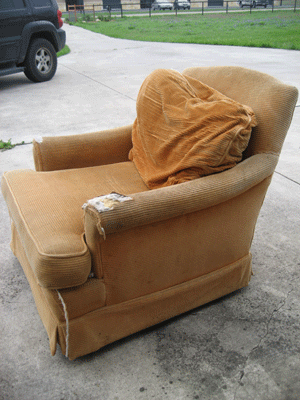 Couch reupholstery or reupholstering any piece of furniture changes the look and appearance and increases the lifespan of the furniture by simply replacing old fabric and foam padding.
Why Reupholster?
Reupholstering can be a great alternative to buying new furniture:
Saves time spent on ordering custom furniture
Allows you to choose the exact type of fabric and cushioning you want in your piece
Allows you to salvage antique furniture or furniture that has sentimental value
Reupholstery Tools:

Some tools that you will need are:
Scissors
Straight pins
Tack hammer
Staple gun & staples
Measuring tape
Pliers
Sewing machine
Thread to match your fabric
New foam for padding if needed
Needle
Carefully remove the old fabric from the couch. Do not rip old fabric off as this may cause damage.
Check the padding, frame and springs for damage.
Tighten the springs if they seem loose.
Reuse the existing foam padding if it is in good shape; otherwise, cover it with synthetic padding / foam to secure the base.

Purchase new fabric.
Lay the new fabric flat on the floor and use a pencil to trace the cushion.
Measure the cushion's length and width and leave one extra inch before cutting the cloth.
Likewise, measure all sides of the couch once again and cut out the cloth in accordance with the dimensions obtained.
Attach the cloth to the frame of the couch using a staple gun.
Secure it neatly to the couch in the same way the old cloth was fixed.
Stretch the cloth gently to the opposite end. Stretch it to the point where there are no wrinkles, but don't pull too tight because the fabric will tear.
Staple it into the padding.
Repeat the same procedure with all the pieces of cloth until the whole couch is covered.
Sew together pieces of cloth which have been cut out in the shape of the cushions.
Use a sewing machine to make slip covers which neatly fit the cushions.
Use a zipper at the mouth of the slip cover so that it can be easily removed for a quick cleaning.
Reupholstery Tips:
Iron the new fabric before reupholstering the couch.
Mark each piece of fabric so you don't have trouble identifying the right piece when reupholstering.
---
Edited by www.eFoamstore.com with content from the article "How to Reupholster a Couch" by eHow Home & Garden Editor of www.eHow.com.